The story of Abdul Rabeeh, a source of inspiration…
The world runs on hope.
Hope that what you dream will one day all be real. Hope that even your wildest of fantasies are never far away from staring at you and surprisingly, these stories are everywhere you look.
Inspirational and touching, we at Hyderabad FC have been witness to one such success story, right in our own backyard.
This is a success story from the heart of football in Kerala, and the ever-smiling Abdul Rabeeh is behind it all.
"I saw Rabeeh for the first time in Kerala and all he wants is to play football. I remember thinking to myself, this is someone that can grow into a top, top player"
– Shameel Chembakath, Assistant Coach
When opportunity, skill, and passion came together—three factors that do not frequently coincide—Abdul Rabeeh seized the moment. Kicking a ball around for fun soon turned into a profession and Rabeeh is just acing it.
Born and brought up in Malappuram, a region that worships the sport, it is no surprise that the 22-year-old is a natural athlete that never tires. But that alone was never going to be enough to take him to new heights.
It was, like in every success story, the belief and determination of everyone involved that made it all possible for Rabeeh.
Shameel Chembakath, the HFC Assistant Coach, who first spotted Rabeeh had a sweet story to tell on how it all started.
"It was during HFC's reserve team camp that Rabeeh was invited and from the very first session, his attitude and the will to learn caught me by surprise. Rabeeh used to travel over two hours on a bike with a few friends to train with us, and he had only one thing in mind, to play football and improve as a player. This is not easy to find among players in this age"
– Shameel Chembakath, Assistant Coach
Spending an entire day just to train for a few hours is not unheard of but Rabeeh's commitment took a further step when he decided to stay with the team and train hard every day.
Two weeks was all it took for the youngster to impress the scouts at Hyderabad and he was soon a part of the reserve team at the club that was already brimming with some exciting talent.
However, Rabeeh knew that it was just the first step to what he wanted to achieve and he put his head down and made sure that he made a name for himself in his first season as a HFC player.
He soon became one of the first names on the team sheet for Coach Shameel's reserve team, showcasing blistering pace and composure in the final third, where he put in match-winning performances in the Durand Cup 2022 and the Reliance Foundation Development League 2022, winning a couple of 'Player of the Match' awards for his efforts.
✨️ Hard work always pays off 👊#EBFCHFC #HeroSuperCup #WeAreHFC #మనహైదరాబాద్ #HyderabadFC 💛🖤 pic.twitter.com/AKUsKPn9ue

— Hyderabad FC (@HydFCOfficial) April 16, 2023
In this time, he impressed the first team coaching staff, who called him up for the senior team and this was the achievement that Rabeeh was working hard for, all his life.
In his debut season, he came off the bench to add some impetus to the attack and was a part of the team that lifted the ISL trophy, but that did not mean that his place in the first team was cemented.
At the start of the 2022-23 campaign, Rabeeh struggled for form in pre-season, leaving his spot in the squad in danger.
However, once again, he put his head down and worked hard enough to be an impact player in the Durand Cup, proving why he deserves top-flight football.
And like any hard-working player, Rabeeh hardly put a foot wrong since the start of the league campaign, registering two assists in just six starts before Hyderabad decided that he was the future.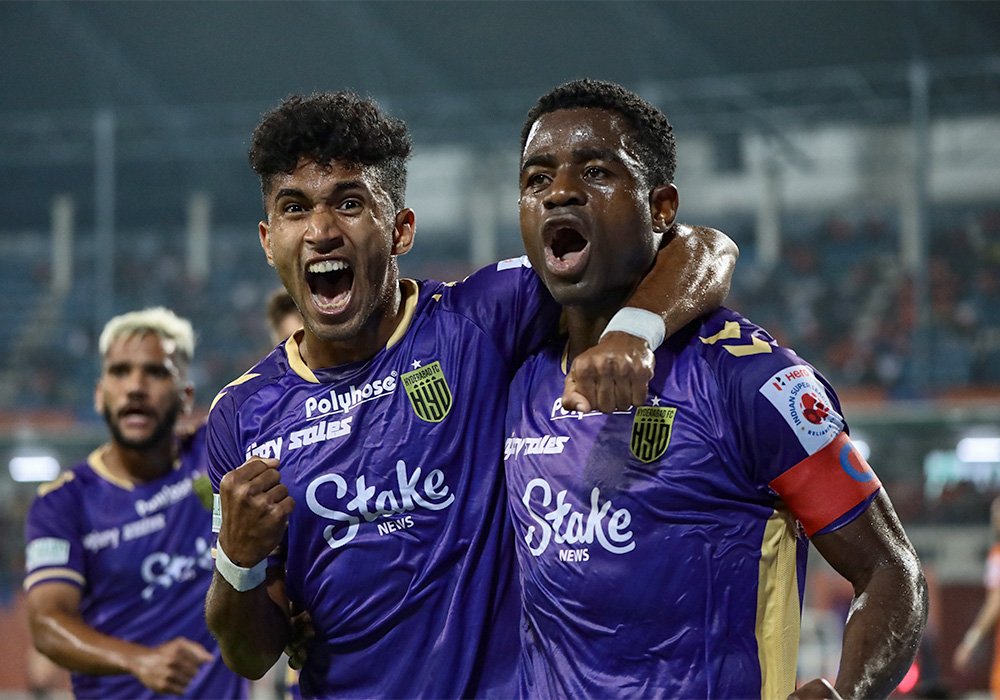 Rabeeh signed a contract extension till 2026 in January this year but yet again, he knows that he has a long way still to go.
"At the start of the season, my place in the first team was not fixed and that scared me. But once I started training and playing, I forgot about everything. And soon enough, Hyderabad FC offered me a new contract, and I was really excited to continue working with this family"
– Abdul Rabeeh
It is now safe to say that Rabeeh is a fan favourite and the future of this club but his biggest moment only came recently.
A new long-term deal can often leave players lopsided and relaxed but you know, Rabeeh is just not that kind.
He just wants to play football.
The 22-year-old grew even more effective and finally managed to find the back of the net for the first time in Yellow and Black and it was nothing less than a fairytale.
It was in March that the dates and venue for the Hero Super Cup were announced and there was a wide grin on Rabeeh's face after learning that he would finally get a chance to play at Manjeri, a stadium in his own backyard.
But he surely did not think that his return to Kerala would be this fulfilling, did he?
"Ever since I started playing football, it was a dream to play in front of my family and friends, who supported me through thick and thin. So, it was unbelievable that I managed to score with all of them watching from the stands in my hometown, where it all started for me as a footballer"
– Abdul Rabeeh
Described by his friends as the AR77 effect, Rabeeh managed to score not just a random goal, but a late equalizer against East Bengal, with his family and friends in attendance, making his wildest dreams turn into reality.
It was a goal to keep his side alive in the Hero Super Cup and it is the most celebrated goal for Hyderabad this season. The smile of our No. 77 was just priceless!
This AR77 season could not end without a reward and Rabeeh was rightly named the 'Emerging Player of the Season' at the HFC Club Awards recently, a testament to the resolve of a youngster who had just one dream.
If you thought the fairytale season makes Rabeeh happy, think again! He just wants to play football and the new season cannot come soon enough for him.
The obvious step ahead for Rabeeh is breaking into the National Team and he has the temperament, attitude and skill to knock on the door next season.
"It is naturally a dream for Rabeeh to represent India but I think it is important for players his age to know that they have not achieved anything yet. They need to keep going, find consistency, and keep improving every year. I think he has good company at HFC to keep climbing up the ladder and we are all here to help him"
– Shameel Chembakath, Assistant Coach
But it is not just the football that makes us all excited for the new season. It is the reunion with the Hyderabad FC family that is stimulating and it is the same for Rabeeh.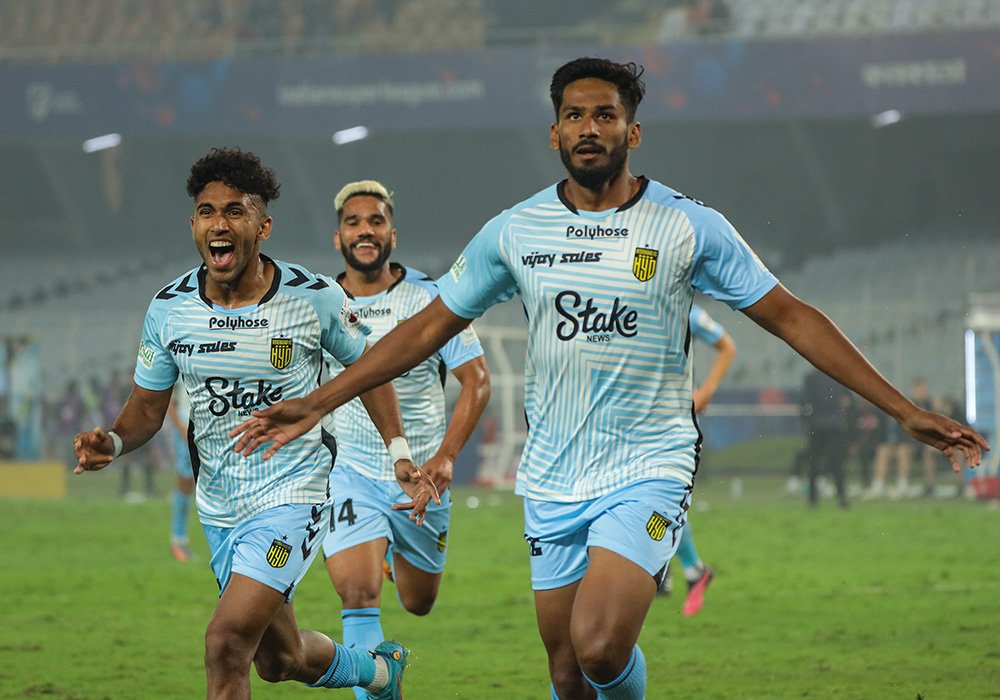 Roommates with a rockstar in Sahil Tavora and another determined learner in Aaren D'Silva, Rabeeh is in good hands for the next season.
"I live with Sahil Tavora and Aaren D'Silva, but (Mohammad) Yasir, (Akash) Mishra, and everyone at the club are like real friends. I can ask them for anything. Whenever we can, we laugh together, dance together and we spend a lot of quality time together and I can't wait to be back with this family"
– Abdul Rabeeh
Rabeeh now sees Hyderabad as his second home. "A lot of time goes away in training but Hyderabad has plenty of places to visit nearby and I have loved the people of this city, who are very friendly," he says with excitement, speaking about the capital city of Telangana.
In the end, Rabeeh is just another guy who just wants to play football and his story is an inspiration to everyone who fall into that category and want to make it big.
Keep going Rabeeh, we are all with you…